Outreach-Community Service
Wednesday, 10 April 2013
Simply teaching youth about HIV and AIDS has not been effective in decreasing the incidence of the virus. Instead, P.A.Y. addresses the underlying factors that increase the risk of HIV and AIDS i.e. poverty, poor education, low self-esteem and gender dynamics. In reaction to HIV, P.A.Y. adopts a Pro-Health approach fostering protection and enhancement of the general population's health. By providing academic support, sports development, a gender programme and life skill opportunities, P.A.Y.s youth attain the skills, information and self-confidence that is necessary to reduce one's personal risk of contracting HIV and AIDS.
Moreover, participants are provided with all necessary tools, providing an understanding that a person needs and must be valued, making provision for progressive and positive behavior change. The acquisition of such attitudes guarantees a holistically successful life for Namibian youth.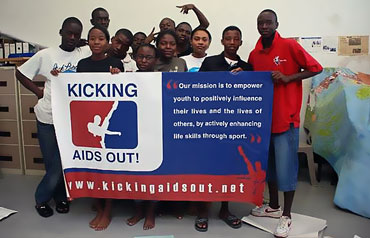 Many HIV messages in P.A.Y. are implemented by using the Kicking AIDS Out Concept as P.A.Y. is a member organisation. Kicking AIDS Out is a concept and an international network that offers an innovative, inclusive, high energy approach that links sports, physical activity and traditional movement games with HIV prevention and education. The most important aspect is that it involves active participation, which is a more effective strategy than just teaching HIV messages in class without involving the learners. The Kicking AIDS Out curriculum builds capacity in youth to help them become stronger leaders and mentors for their peers. It also teaches youth coaches to lead activities that integrate like skills and HIV and AIDS information into sport and physical activity.
Youth who qualify can then become leaders and assume greater responsibility for supporting and mentoring other Peer Leaders in their organization. Trained youth leaders who can engage their peers in sports, provide accurate health related information and skilfully create safe spaces for discussion on many sensitive issues that are essential factors in the success of the initiative.