2012 Olympics
Friday, 04 October 2013
As our athletes are taking part in key international sports events in SA and Cyprus, PA.Y. Sports Development Officer Jordan Frost takes a look back at an event that proved seminal in their growth as sportists: a trip to the London 2012 Olympics. 
On July 25th 2012 PAY made history sending five athletes and one chaperone from the elite cycling program to the 2012 London Olympics! MJ, Fiffy, Costa, Laban, Martin and Nghilifa travelled to England on board Air Namibia, making it the first time for many to be on a plane and leave their country. Together, as a team the young gentlemen accompanied by Marie Jeanne, the programme co-founder and current manager, gained a life changing experience that provided a multitude of benefits to the boys, the team, PAY, the community and the country of Namibia in general.

The boys were noticed for their talent, skill and drive; however, these young athletes were are all missing key ingredients to becoming successful.  Having the experience of seeing the Olympics up close and personal gave them the extra determination and heart to follow their dreams while learning the right attitude to be victorious.  This special opportunity gave these underprivileged athletes an edge, an X-factor, and an advantage over their competition, something they were not used to yet deserved very much. On top of this, research has shown how development teams do not meet their performance goals during their first Olympics because they are shocked by the experience and how easy they have access to everything. This reality added an heightened need for such an experience -  their trip to London as fans got each individual use to the lifestyle and experience they will be partaking in four years time as athletes. Members of the elite cycling program also learnt the importance of working as a team. In the 2012 Olympics, the cyclist representing Namibia was a solo rider competing against experienced teams that work together efficiently and effectively, who would undoubtedly benefit from a team.

Fiffy , Costa, Martin, Nghilifa and Laban would all had the opportunity to experience a new culture, had expertise in travelling, were able to talk to Olympic athletes about various topics including training, nutrition, and sports psychology. They would also pick up and learn a bunch of physical, cognitive, behavioural and emotional skills from elite level athletes. Most importantly they would be able to give back to the Katutura community and PAY program sharing their learning objectives and experience with children, adolescents and young adults who have dreams of travelling and being successful in athletics as well after their trip.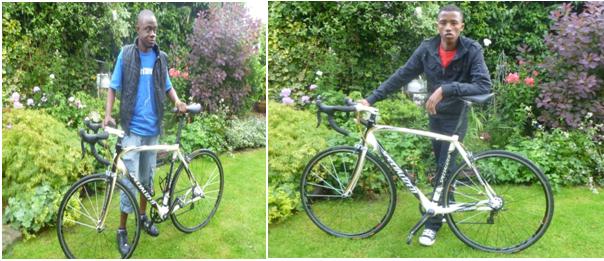 They returned to Namibia on July 31st gaining a lot of attention from the media, public and competition. This experience laid a solid foundation to promote and reach the many successes the PAY Elite Cycling Team has accomplished. PAY sincerely believes this was the first step in ensuring the cyclists represent Namibia at the 2016 Olympics in Rio, Brazil!