FAQs
Saturday, 13 April 2013
1. Is the service provided by P.A.Y. free of charge?
Yes, the programing provided for learners is free of charge. Enrollment is open to all students in Katutura on a first come, first served basis.
2. Is the programme open to anyone?
The program is intended for youth who reside in Katutura, however, we don not turn down youth eager to enroll at P.A.Y. from Khomasdal or any other WIndhoek township. Our primary target are learners grade 7 to grade 12, but we do not turn down younger participants either as long as they meet registration criteria.
3. What documents must a learner provide to enroll at PAY?
Previous year's School Report, valid Birth Certificate, a passport size photograph and a signed contract with PAY which stipulates the learner's rights and obligations and terms of expulsion from the programme in case of severe breach of code.
4. Who pays the staff?
PAY staff is a committed team of young individuals who divide their responsibilities between educational enrichment and tutoring, life skills, and sports coaching. Many staff members are PAY alumni as well and maintain a close-knit connection with the youth who attend the program.
PAY is open to anyone who may be interested in devoting time to our programming. The organisation has had local volunteers from UNAM and community quests and international volunteers from UK, Canada, US, Germany and as far as Serbia. If you are interested in honing the learners sports skills in any sports discipline you have yourself perfected, or sharing your academic knowledge and helping them solve homework and prepare for exams, or if you wish to work on the implementation of important community projects in connection to HIV/AIDS prevention, child labour, recycling and promoting green behaviour, then you are welcome to apply! The most important feature a volunteer at P.A.Y must always display is tenacity: we have set ourselves high goals in a tough but inspiring environment. If you are up to the challenge, see the answer to question 6!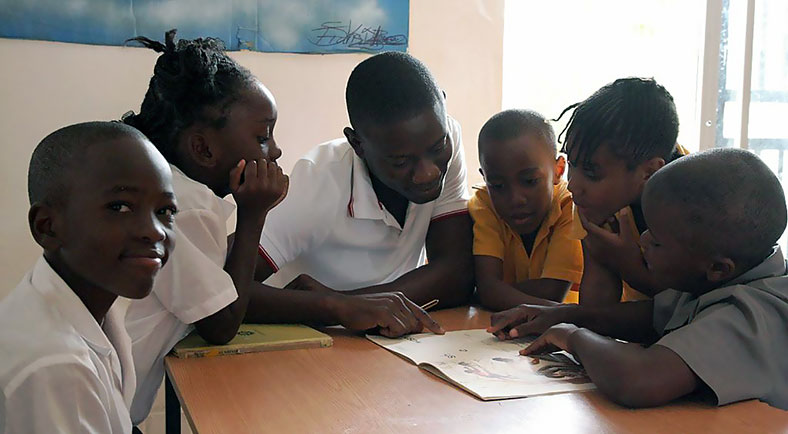 6. Whom to contact in case I am interested in becoming a volunteer?
We are eager to have you! Just drop us a line at This email address is being protected from spambots. You need JavaScript enabled to view it.. or look for Marie Jeanne at our office in the Multi Purpose Youth Resource Centre, Dr Leonard Auala St. in Katutura.
7. What do participants do at PAY after school?
PAY provides a safe place for students to spend their time after school. The aim of the program is to guide learners through their adolescence and motivate them to finish their secondary education.
8. What do participants/kids do after PAY?
Alumni of the P.A.Y. programme complete grade 12 and with the leadership skills and confidence they gain at P.A.Y., our learners go on to university, find meaningful employment, attend international IB programmes at a United World College and many more! Some of our former participants have joined P.A.Y. to become a committed staff member or volunteer.