Core activities
Wednesday, 10 April 2013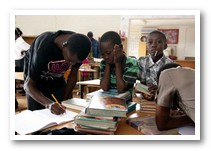 All participants (grade 7-12) receive academic tutoring five days a week (often on Saturdays too). Academic assistance includes structured lessons of approximately 60 minutes, addressing conceptual problems and skills that learners have most difficulty adopting, e.g. solving equations, learning the multiplication table, reading comprehension and textual analysis, written expression, understanding fundamental concepts of physical science and life sciences etc. It is our belief that in so doing we not only increase knowledge acquisition but also consolidate their motivation: once the learners realise they are able to truly understand the world around them by attending school and not merely cram for exams, they are significantly more motivated. This almost automatically improves performance. These lessons are usually delivered in larger, age-specific clusters.
The remaining 60 minutes are allocated for solving homework problems or school projects which is done in smaller grade-specific clusters or on an individual basis depending on the number of volunteers.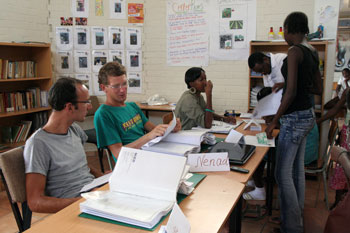 Before the exams, we organise intense subject-specific tutorials with our own evaluation schemes whose aim is to build up knowledge, identify weaknesses and boost confidence prior to the exam at school. The overall objective is to help students pass their twelve exams, and allow them to reach their full academic potential.
Programmes are carried out by students from the University of Namibia volunteers, community guests, volunteers from abroad and permanent staff, all of whom take part in tutoring and extracurricular activities. Click here to view our Academic Timetable for the winter semester 2012.
Since March 2012, P.A.Y. has a comprehensive computer-based eLearning programme in its daily routine with the aim to enhance and facilitate the learning process. This is the first such undertaking in Katutura, probably in Namibia too, in an after-school setting. Our primary drive is to equip the learners with e-skills indispensable in the fast-changing world.