P.A.Y. news - archive
Thursday, 07 February 2013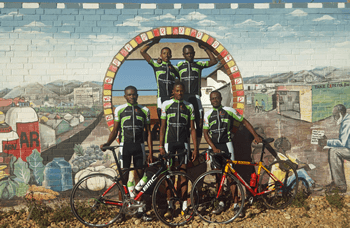 The Physically Active Youth (PAY) cycling team has been catching the limelight with some great performances in the Windhoek Pedal Power (WPP) cycling series over the past month.
In the three races to date in the WPP series, cyclists of the Katutura-based team have consistently finished amongst the top five overall cyclists, while  they have also been dominating the Under-23 category with three victories to date.
At the first race at the Döbra Loops on January 20, Fiffy Kashululu won the Men's U23 category, coming fifth overall, and a week later at the Dordabis Road Race, Kashululu once again won the U23 category, coming fourth overall. At the third race of the series – last weekend's Matchless Road Race – the PAY team took the first three places in the Men's U23 category, with Lucky Mbako coming fifth overall, Kashululu sixth overall and Johannes Hamunyela eighth overall. After last Sunday's race, Mbako was a bit surprised at winning the U23 category, but thanked his team mates for their support.
Read the full story at
or at
Namibia Sport, Namibian's leading sport magazine