P.A.Y. - supervised after-school environment for youth
Thursday, 14 February 2013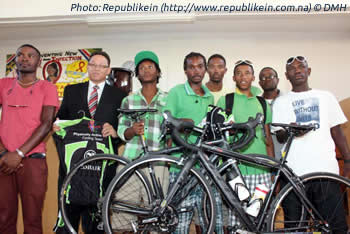 A GROUP of young cyclists from Physically Active Youth (PAY) programme have expressed appreciation to Nedbank for sponsoring them with bicycles and gear.
The Nedbank PAY Cycling Team was officially launched on Wednesday morning at the Katutura Youth Multi-Purpose PAY Resource Centre.
Speaking at the launch, one of the cyclists Fiffy Kashululu described Nedbank's involvement as a life-changing moment for the team.
"When we first started cycling as a group, we had almost nothing but we never got discouraged as we believed in each other.
Read the full story in Windhoek Observer.