Tuesday, 19 February 2013
The Physically Active Youth (P.A.Y.) programme  is a community-based project that focuses on the healthy development of young people in low-income communities. P.A.Y. programme provides a safe and constructive platform for a supervised after-school environment for youth. Using a holistic approach, the program addresses the physical health, academic status and personal development.
This is implemented in the form of an after school programme in the Windhoek township of Katutura where children and youth come every day after school to receive academic assistance and engage in structured sports activities.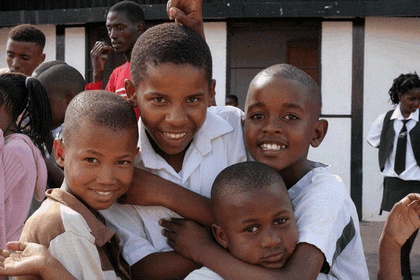 In addition, one day in a week is dedicated to life skills training on topics of relevance for the local community as well as the Namibian society as a whole. The programme was founded in 2003 through the initiative of Dr Donovan Dominic Zealan, a lecturer in the Department of Mathematics, Science and Sport Education, Faculty of Education, at the University of Namibia. His rationale was that physical education must be seen as an integral part of the general education process in order to make a meaningful contribution to improvement of the quality of life of young people, that will enable them to maintain a healthy lifestyle and to function effectively in society. 
Initially, the programme enrolled 35 grade 10 learners. Since then, it grew to include up to a hundred participants from grade 7 to grade 12 as well as a few learners of junior grades, often siblings of senior learners who must take care of them. The junior learners, even though not a primary target of P.A.Y. programme, are then occasionally included in the programme as well. Otherwise, the senior learners would not be able to attend.
One of the main reasons that the current education faces so much strain is based on the weak psycho-social circumstances that most of these learners come from. The P.A.Y. model adresses this issue by constructively structuring after school time as well as engaging in a community dialogue with all stakeholders of education process including parents, leaders, administrators and above all, the learners themselves. 
Through education and sports, P.A.Y. helps decrease juvenile crime, teenage sexual activity and substance abuse. In this way, P.A.Y. contributes a great deal towards positively shaping the lives of underpriviliged youth. Moreover, we provide an opportunity for support and volunteerism, thereby enabling all Namibians to assume responsibility for the future of their communities.
 If you are interested in getting to know more about P.A.Y., helping us in our endeavours or joining us in our exciting work, don't hesitate to get in touch. You will find our contact details here. We are eager to hear from you !