P.A.Y. - supervised after-school environment for youth
Monday, 04 February 2013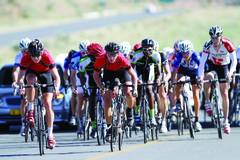 JUNIOR cyclist Martin Freyer of the Kia Motors team won the third leg of the Windhoek Pedal Power cycling series, the Matchless Road Race, on Sunday when he finished the 106,6km event in a time of 2:47:13. Freyer was a comfortable winner, with Heinrich Köhne coming second in 2:47:22, while another junior cyclist, Pascal Marrgraff of the NMC team came third in 2:47:31. Freyer broke away from the leading pack going up the Daan Viljoen hills, and although Heinrich Köhne tried to close the gap, Freyer held on for the victory.
"I'm very happy because Matchless is my favourite race with all the hills. My goal was to do very well and represent the Kia team and have great results today," Freyer said after the race. "Towards the end I got away a bit but about 500m from the finish Heinrich started catching up on me, so I thought I better start picking up the pace otherwise he will catch me. But congratulations to Heinrich and Pascal, who came third, but I'm very happy with my win today," he added.
It was the third time that the Kia Motors junior team had taken the honours, with Freyer's team mate Michael Pretorius winning the first two legs. This time however, Pretorius finished 12th overall in 2:49:45, after having overexerted himself the previous day at his schools athletics competition. "Michael had an athletics day at school the previous day, so I knew that his legs would be tired and this morning while driving here he could already feel them, so I knew he would not be doing too well. It was a bit sad because I didn't have a team mate to help me while I could also not pull him up to the finish," Freyer said.
Second and third-placed Köhne and Marrgraff were also happy with their results. "It was a surprisingly good ride for me today. I just felt good so I went all out. Compared to last weekend when I hit the wall a bit, I surprised myself today," Köhne said. "It was very hard, but a very nice ride and I'd like to thank my team NMC for their support," Marggraff said.
Köhne won the Elite Men's category, followed by Jacques Celliers who came fourth overall in 2:47:55 and Ananias Ananias who came ninth overall in 2:49:32.
The Physically Active Youth (PAY) team dominated the Men's U23 category, with Lucky Mbako winning in 2:48:18, followed by Fiffy Kashululu (2:48:44) and Johannes Hamunyela (2:49:23). The first three cyclists in the Junior Men's category were Freyer (2:47:13), Marrgraff (2:47:31) and Jerneil Barth (2:48:52).  Hans du Toit won the Veteran men's category over 90,6km in 2:29:00, followed by Jacques Tattersall (2:29:01) and Gerrit Walters (2:29:25). Tristan de Lange won the Boys' U16 category over 76,10km in 2:01:40, with Herbert Peters coming second in 2:07:07. Zoë Mitchell won the Women's Elite category over 61,7km in 1:54:23, with Bertha Theron coming second in 1:54:33 and Wanette Hanekom third in 1:56:48.  The third leg of the Windhoek Pedal Power series once again saw a fine turnout with 112 cyclists entering the race.
Read the full story in Namibia Sport, Namibia's leading sport magazine
Matchless results in PDF, 03.02.2013.